Coin Fraud - Is Your Investment at Risk?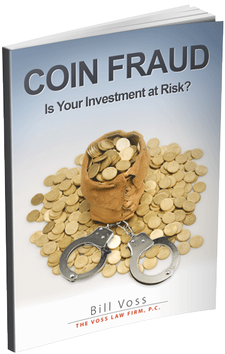 Victims of coin fraud, rare coin fraud, and gold fraud should not continue with their claims UNTIL they have read this book. Consumers looking to invest in gold should read this book BEFORE making an investment.

Have you been a victim of gold coin fraud? Many people are investing in gold to add to their investment portfolios and are being taken advantage of by unscrupulous coin dealers. Some precious metal dealers make false appreciation claims, promising gold coins will double or triple in worth. Other dealers will send you a different coin than what you thought you bought or not grade a rare coin correctly.

Coin Fraud - Is Your Investment at Risk? explains that although purchasing gold coins can be a good investment, if you have done your research and are dealing with a reputable dealer, it can also be a risky investment, as there are many dealers who use misleading tactics to rip consumers off.

Find Out if You are a Gold Scam Victim
Did you buy coins that are worth much less in value than what you paid?
Were you charged high markups for the coins you bought?
Did you receive a different coin than what you ordered?
Were you told by a salesperson that your coin was guaranteed to go up in value?

If you answered "yes" to any of these questions, you have most likely been a victim of a gold coin scam and need to order this free book.

If you think you have a legal claim against a fraudulent coin dealer, Coin Fraud - Is Your Investment at Risk? is a must-read for you. Learn how to pursue shady dealers for overcharging you and for using deceptive practices. You may be part of a class action lawsuit or have another claim against a fraudulent dealer in which they were unable to meet guarantees and obligations they promised you.

Get Answers to Your Questions

Simply fill out the form below to order your free copy of Coin Fraud - Is Your Investment at Risk? This book was written by attorney Bill Voss, who is an experienced consumer protection lawyer and is committed to helping victims of coin fraud.

Don't Delay, Order Your FREE Copy Today!