Website Privacy & Security Statement
1. Introduction
This privacy policy explains how The Voss Law Firm, P.C., Voss Law Firm, DeniedClaim.com, we, us, etc. processes personal data when you interact with us online or in-person, such as when you interact with us or our service providers, vendors, or other individual businesses ("Vendors") via our or their respective websites, and offline or "in person" (such websites, apps, channels, and collectively, our "Sites").
2. How We Collect Personal Data
From you online. This includes personal data and other information that you provide to us or our vendors when you visit and/or use our sites, request information, sign up for our digital communications, download resources, or otherwise interact with us or use our Sites.
From devices you use. This includes information collected through our sites and automatically from devices you use to connect to our sites.
From third parties sources. This includes personal data we collect from other third-party sources, including, but not limited to, websites that enable social sharing, social media sites, public sources, and websites from our service providers, vendors, our affiliates, or other individuals and businesses.
From you in person. This includes personal data collected when you interact with us.
3. Types of Personal Data We May Collect From You
Depending on how you interact with us or our vendors, we may collect the following information:
Contact Information, such as your name, home address, work address, email address, telephone number, or other similar identifiers.
Biographic and Demographic Information, such as your date of birth, age, gender, and photos.
Account Information, such as your online account user name and password, profile details you choose to provide, transcripts of customer service chats, and your feedback and reviews.
Internet Usage Information, such as your browsing history, search history, web-based location, IP address, and any other Internet usage information our sites may automatically record when you visit.
Device Information, such as your browser or device model and settings, operating system, device ID, and unique identifiers.
Customer Support Information, such as the information you may provide when you interact in a live-session with our online chat (insurance policies, companies, contractors, etc.).
Inferences, such as inferences drawn from any of your personal data collected.
4. How We Use or Disclose Your Personal Data
We may disclose personal data collected from or about you with any of the following third parties and for any of the following purposes:
Vendors. We may provide personal data to vendors who we engage to provide services to us, including advertising and marketing partners and customer analysis firms.
Government, regulatory, or law enforcement agencies. We reserve the right to disclose your information to respond to valid information requests from government authorities and judicial requests or where otherwise required by law. We may disclose your personal data where we believe the disclosure is necessary or appropriate to comply with regulatory or legal requirements, or to protect the safety, rights, or property of ourselves and others and to exercise, establish, or defend our legal rights.
At your direction. We may disclose your personal data at your direction or with your consent.
Collaborators. We may share personal data with collaborators with whom we jointly develop or promote our sites, including co-branded opportunities and promotions.
The General Public. We may share personal data with the general public if you choose to share personal data when contributing content to our sites through forums, blogs, social features, reviews, or the like.
Aggregate Data. We may disclose your personal data in an aggregated or non-identifying form or otherwise in a form that cannot reasonably be used to identify you. We will not attempt to re-identify and/or link data we receive in an aggregate or de-identified state to any person, household, or device. Furthermore, Voss Law Firm is not responsible for the privacy or data security practices of other organizations and has no control over and is not responsible for the accuracy of de-identified and/or anonymous data third parties pass to Voss Law Firm.
5. Children's Privacy
You must be 18 years or older to use our Sites. Our Sites are for a general audience, are not targeted to children, and do not knowingly collect personal data from children under 13 years of age.
6. Links to Third-Party Websites
We may provide links to websites and other third-party content (e.g., social media platforms) that are not owned or operated by us. The websites and third-party content to which we link may have separate privacy notices or policies. We are not responsible for the privacy practices of these websites.
If you provide any personal data through a third-party site, your interaction and your personal data will be collected by and controlled by the privacy policy of that third-party site. We recommend that you familiarize yourself with the privacy policies and practices of any such third parties.
7. Advertising and Opt-Out Disclosures
When you use our sites, our third-party advertising and marketing partners, social media providers, and analytics providers may collect personal data about your online activity on our Sites and on third-party websites.
These providers may set web tracking tools to collect information regarding your online activity. In addition, our advertising and marketing partners may use this information to deliver advertisements to you when you visit third-party websites within their networks.
8. Information Security
We use reasonable administrative, technical, personnel, and physical measures designed to safeguard information in its possession against loss, theft, unauthorized use, disclosure, or modification. However, the confidentiality of information transmitted over the Internet cannot be guaranteed. We urge you to exercise caution when transmitting personal data over the internet. We cannot guarantee that unauthorized third parties will not gain access to your information.
9. Cookies and Similar Technology
We and our vendors and advertising and marketing partners use various tools to collect data when you visit our sites and apps, including cookies, pixels, local storage, consumer behavior analytics tools, and other similar technologies. Some of these technologies store data in your browser or on your device. Other technologies may use network-related or other information to recognize your device (e.g., IP address). Our sites use these technologies, for example, when you first request a web page and data is then stored on your computer or other device so the website or mobile app can access personal data when you make subsequent requests for pages from that site. These technologies may also be used to collect and store information about your usage of the sites, such as pages you have visited, other content you viewed, and search history.
10. Your Marketing Preferences
We may periodically send materials or notifications related to our services. This includes email and text messages related to your interactions with The Voss Law Firm, weather patterns, or other activities. If you no longer wish to receive promotional marketing materials from us you may opt out of receiving such materials. You may unsubscribe from receiving marketing or other commercial emails from us by following the instructions included in the email or by contacting us at 866-203-5411.
If we have your postal address, you may receive periodic mailings from us. If you do not wish to receive postal mailings from us or our vendors, please notify us by contacting us at 866-203-5411. Please provide us with your name and postal address and identify which lists you wish to be removed from when submitting your request for removal.
There are certain service notifications emails that you may not opt out of, such as notifications of changes to our sites or policies.
11. Updates to this Privacy Policy
We may update this policy from time to time. To the extent permitted by law, any changes to this policy will be posted to our site and will become effective upon posting.
12. Contact Us
We welcome all requests, suggestions and questions concerning our use of your personal data. All such communication should be directed to our toll-free number at 866-203-5411 between 8:00 a.m. and 5:00 p.m. during normal business days.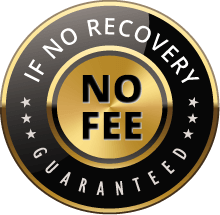 The Voss Law Firm, P.C. represents clients on a local, national and international basis. We proudly serve companies and individuals along the Gulf Coast and around the globe on a contingency fee basis. Our law firm collects nothing unless we recover on our client's behalf.